Drawing Lines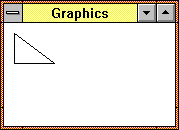 #include <stdio.h>
#include "graphapp.h"

void redraw_it(Window *w, Graphics *g)
{
  Point p1 = pt(10,10);
  Point p2 = pt(10,40);
  Point p3 = pt(50,40);

  draw_line(g, p1, p2);
  draw_line(g, p2, p3);
  draw_line(g, p3, p1);
}

int main(int argc, char *argv[])
{
  App *app = new_app(argc, argv);
  Window *w = new_window(app, rect(0,0,174,100),
                         "Graphics", STANDARD_WINDOW);
  on_window_redraw(redraw_it);
  show_window(w);
  main_loop(app);
  return 0;
}

Notes:
The pt function is used to specify mathematical points.
The draw_line function draws lines between points.
Use on_window_redraw to specify which function is called whenever the window needs to be redrawn.
A Graphics object is used in drawing.
Points are automatic (they are created on the stack) so there is no need to delete them.